Things to come
Finally finished all of the marking that needed doing...
Finishing off some orchestration (for secondary school orchestra - more details to follow)
Once that's done, it's on with the fun.
As well as everything that I've mentioned above, the summer will see a week or so devoted to getting a good recording by Nicholas Ashton of
EMG
(stands for 'Even More Geese'), and a session experimenting with the department's 5-octave marimba (and possibly playing with other percussion instruments - timpani and detuned vibraphones (based on some exciting ideas tweeted by
Jacob Sudol
(
@jdsudol
on Twitter)).
While I was taking my MA at Huddersfield, I wrote a piece called
More Geese
for the
Firebird ensemble
conducted by
Barrie Webb
with
Alison Wells
singing mezzo-soprano. The piece was based on Orlando Gibbon's madrigal
The Silver Swan
but extrapolated from the original material and really problematised the rhythmic structure. Even though I loved the piece, and the players and Alison did a great job, the notation made the whole piece a lot harder than it should have been. Although, at the time, what I was aiming for was a sense of rhythmic floating, almost like a tightrope walk, my obsession with ideas of control were getting in the way of what I actually wanted to hear (at least that's my perspective now). I had written the piece in reaction to an editorial by
Steve Martland
for spnm's in-house magazine
new notes
(spnm has now merged with other UK concerns to become
Sound and Music
) in which he said that 'notation is merely a means to an end'. I still feel that as a sound-bite, that really misses the point about notation and its relationship to its realisation, and that notation has its own implied (unwritten) tradition, simply based on a reception and interpretative tradition so by writing in a certain way (as I was then), I was aligning myself with composers like Brian Ferneyhough and Michael Finnissy rather than with composers like Steve Reich or Peter Maxwell Davies (to pick two names out of the air). In many ways though, my piece missed the point. So much attention rested on the notation and its realisation (and the relationship of the parts to the conductor's pulse) that the 'history' of the notation became more important than the way it sounded (so far so good) but only to the performers. The sound was rather beautiful and floating, but it didn't rely on the notation to make it like this. So I want to revisit the notation and make it less rhythmically problematic, and dispose of the conductor and the score. I'm convinced that the piece will be stronger for it.
Even More Geese
is a piece for solo piano that I haven't finished. It exists in potential but not in reality. the idea is that I will take the uncoordinated parts of
More Geese
and transcribe them for solo piano. The notational aspect of this is going to take a lot of thinking about, but I think it could be a good piece... We shall see if I ever get around to writing it of course!
EMG
takes a series of vertical slices from the potential score of
Even More Geese
and sustains them as chords for a specified length of time based on a durational series. This durational series, and the (related) series that determined from where (or rather when) these slices were to be taken were derived from the name of the dedicatee (
Nicholas Ashton
) . I'm still in the process of inputting this into Sibelius and making the notation all 'nice' from my hand-scrawled (my carefully hand-written scores of the past are now, alas, in the past) A3 manuscript (it's a bit more than making it neat though - I want to clean up the score and remove some of the stave lines to give more of a sense of the sound of the piece from the notation), but at present it looks a little like this (click for a bigger copy):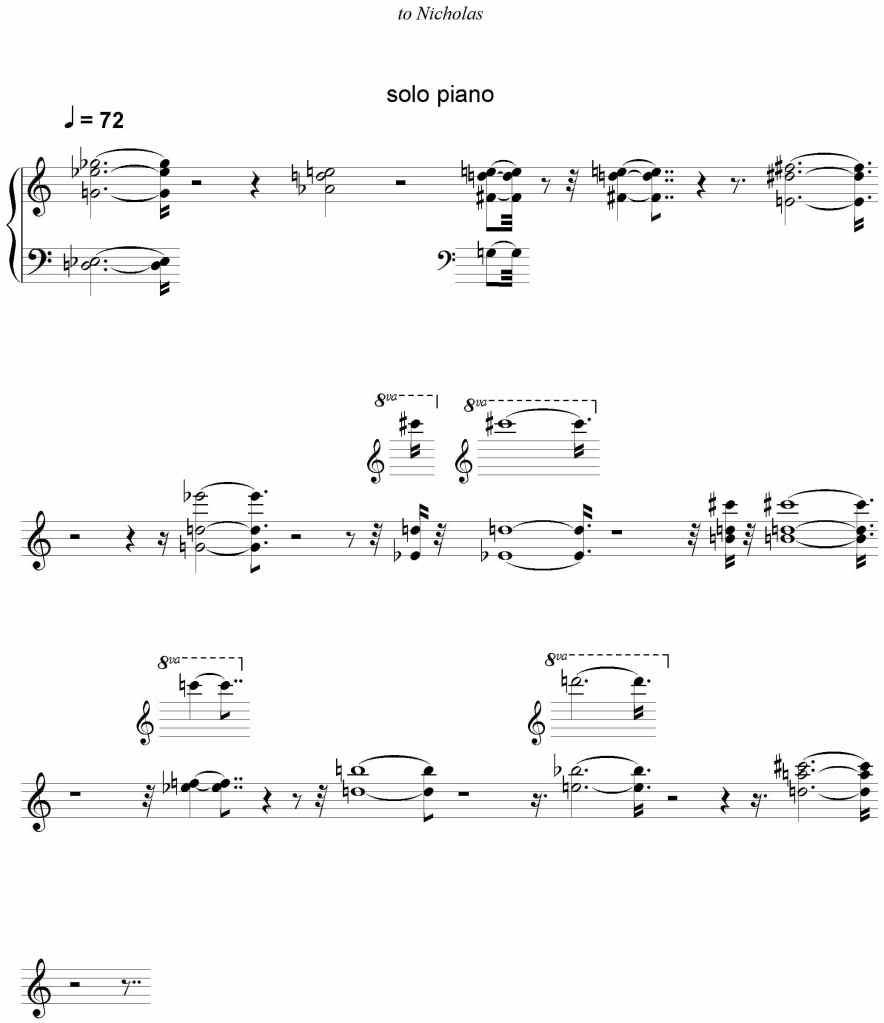 I say 'a little like this' because there are some revisions still to be implemented but hopefully you get the idea. Chains of (metreless) durations are what concern me at the moment, and I would say that they dominate much of what I am writing at the moment.
The experiments in percussion are for a couple of reasons really. The first is to pick the brains of the percussionist from my ensemble,
Edinburgh Experimental Musicians
, Ian Munro, before he leaves for his MA place in London next year, but the second is for a specific piece. I originally wrote the instrumental parts of
JAMESTENNEY
for
[rout]
and scored it for soprano saxophone, electric violin, electric guitar, bass guitar, piano, hammond organ, and sine waves. Never quite got around to finishing the instrumental parts, but the notation was beginning to move away from the complex rhythmic notation that dominated my PhD writing, and towards the more simplified (indeed inspired, in part, by the composers of the so-called
Cologne School
) notation that I'm trying to get to right now. I would say that the reason I didn't finish it was because the notation (and the compositional approach) was still in embryonic form. I didn't know what I was doing. The sine wave part was finished (and can be heard by visiting
my myspace page
) and I'm hoping to finish a solo piano version in time to play it at the
Edinburgh Festival Fringe
this summer, but I'm revisiting the original instrumental parts. My plan is to replace the piano part with an amplified marimba. Why do I want to do this? In part, it's a practical thing: in order to perform a part with a piano, you have to have a venue with a piano, and a marimba (even a 5-octave marimba) is just easier to transport; but I also want to explore what you can do with an amplified marimba. I've always written the marimba off so I want to see if I can make something of it... Only time will tell I guess. Quite enjoy this sense of moving away from the traditional 'nailed down' concept of what does and doesn't constitute a 'work' and I think that the instrumental parts may well be a compendium from which performers can select an ensemble (rather like Cage's
Concert
- a work that is informing ideas about
Kinderszenen
as well).
In many ways this is all very 'me me me' (and some would say that's how I've always been). Will perhaps say some things about composers that I think are worth listening to over the next few weeks. Then again, I may just witter on about me and the pieces I'm just about to write any day now as soon as other things cease being quite so important...
Labels: composition, electronics, experimental music, marimba, piano